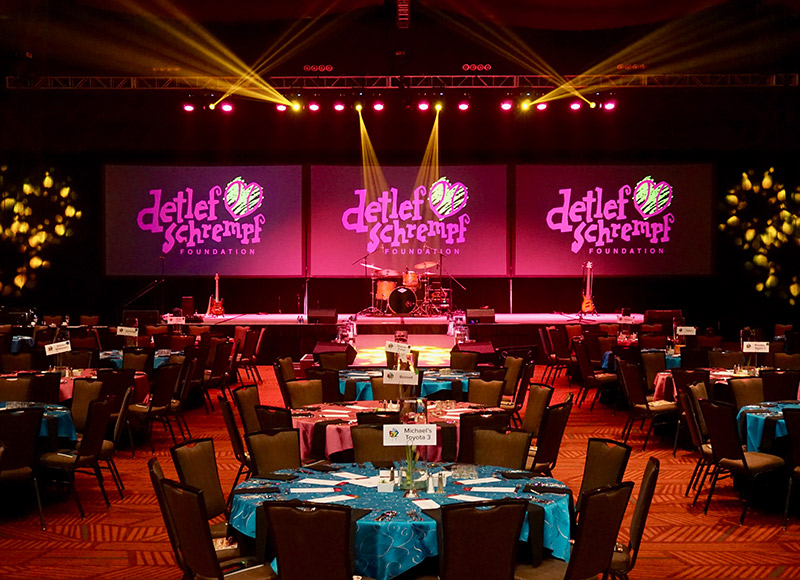 Service and Quality
We're committed to best-in-class service and quality amenities.
With our in-house Technical Services team partnered with our preferred AV provider, AV Factory, you can rest assured that you're in good hands. Whether your needs are small or large, we've got the expertise and capabilities to help your event soar and wow your attendees.
AV Services
Scenic & Lighting
AV Factory can offer a diverse range of scenic and lighting options to make the look of your event pop. We have the ability to do everything from stock scenic elements to custom fabrications to create the presence on stage you are looking for. We can integrate lighting into your event that can make your audience feel like they are at a live concert or simply use gobos and colored lighting to carry your brand through the space.
Video
AV Factory has up-to-date video technology that will make your visual experience seamless. From matrix switch solutions to HD and 4K video and graphics support, you can rest assured that we will help your content shine. We can also bring in everything from standard projection to video walls for your event.
Audio
Our team is always focused on making sure your speakers, singers and auctioneers all sound great for your audience. We can bring in line arrays or ground supported systems and have a full complement of radio frequencies and microphones, depending on the needs of your event.
Plug & Play
Many of the spaces at Meydenbauer Center are designed so that the AV process doesn't take a lot of time to set up and use. The fourth-floor meeting rooms have built-in projection and sound systems, as well as fiber optic signal distribution to send video easily throughout the building. Our Executive Conference Rooms also have built-in technology that allows for wireless connectivity that can be transitioned quickly and easily from one meeting participant to another.
Internet, Power and Data
| | | |
| --- | --- | --- |
| Power | Wireless Internet | Other Data Services |
| Heavy production power conveniently located in Center Hall | Network speeds of up to 5Mbp | Up to 10 Gbps bandwidth throughout the facility |
| Floor boxes throughout the meeting room to deliver power seamlessly | Easy internet access for up to 4,000 devices | Dedicated webcasting internet connections |
| Sufficient power for tradeshow booths throughout Center Hall | Ability to customize your network name to feature your event or sponsors | Flexibility to connect the facility network back to corporate networks offsite |