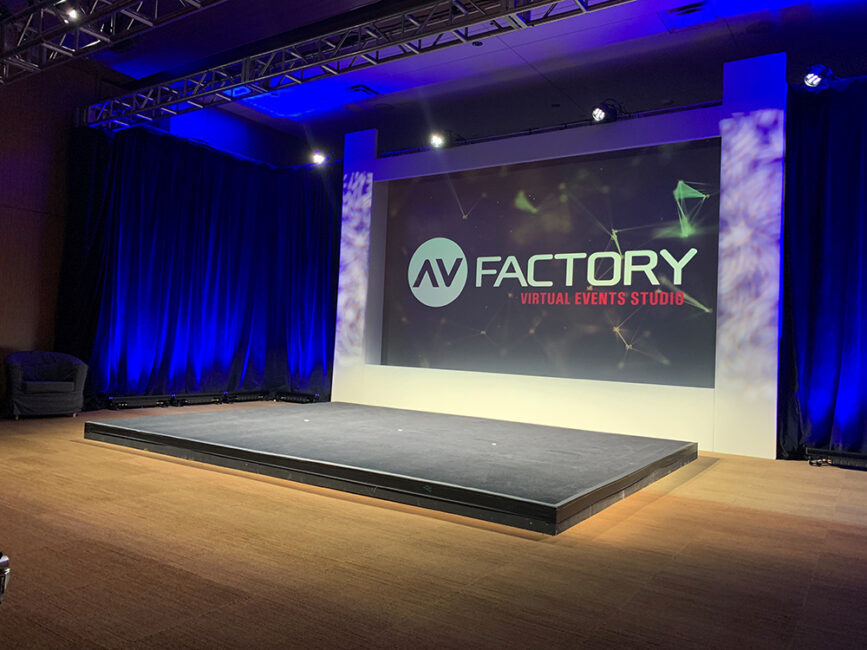 Finally, a Sensible Virtual Solution
Engage your audiences without getting overwhelmed.
So many of us are looking for guidance in our industries during an unprecedented time. Delivering that guidance and expertise safely can be hard to figure out. With a virtual conference space like our Virtual Event Studio, you don't have to feel stuck anymore. Whether virtual events are a first or it's just your first time in a webinar studio, we're here to help. We built the Virtual Event Studio to have everything you need all in one simple, yet flexible solution. Your virtual meeting rentals search stops here. We can't wait to work with you.
Features
Professional Quality
Professionalism doesn't have to be a lost cause in a virtual convention space. Our studio allows for creative flexibility without sacrificing quality. Your association's brand and rectitude are featured front and center providing a familiar environment for your members and reinforcing your expertise.
Technical Support
AV Factory provides complete cohesion installing the video event system from the ground up. They take special care in selecting the right equipment suited to your needs considering ease-of-use, display size, and technical needs. In addition to this comprehensive approach, AV Factory takes an integrated approach to the entire space. From lighting and aesthetics to IT infrastructure and usability, their goal is to provide the ultimate experience in a virtual conference space.
Safety
During a global pandemic, it's imperative that you get the support you need in a safe and healthy environment. Safety is one of the pillars of our customer service philosophy. Respect for the health and safety of you and your team guides every decision we make. From the very construction of the Virtual Event Studio to how we'll conduct your event day-of, safety is behind everything. Your technical support team runs the show in a separate room without sacrificing quality. Your studio will be exclusively yours for the duration of your rental. GBAC STAR™ accredited standards are in place throughout the building making your virtual meeting space available complete with peace of mind.
Catering
You may be in our Virtual Event Studio, but you're still at a convention center and one of the added benefits is catering. We're not talking about craft services, but rather the support of our professional-grade kitchen. Whether you're looking for bites for guest speaking or something to keep your team energized and nourished, our staff can provide. And, as a GBAC STAR accredited venue, you can rest assured that your food and beverage will be delivered safely with social distancing and cleanliness best practices in place.
Technical Capabilities
The Virtual Events Studio includes…
Broadcast quality multi-camera video system
Digital backdrop
Graphics playback computers
Solid state video recording
Web encoding computers
Teleprompting
Studio lighting
Digital audio system
Modular scenic options
Studio and control rooms physically separated for maximum social distancing
We'd Love to Hear from You
If you have an event in mind or just have some questions, we'd love to help out.