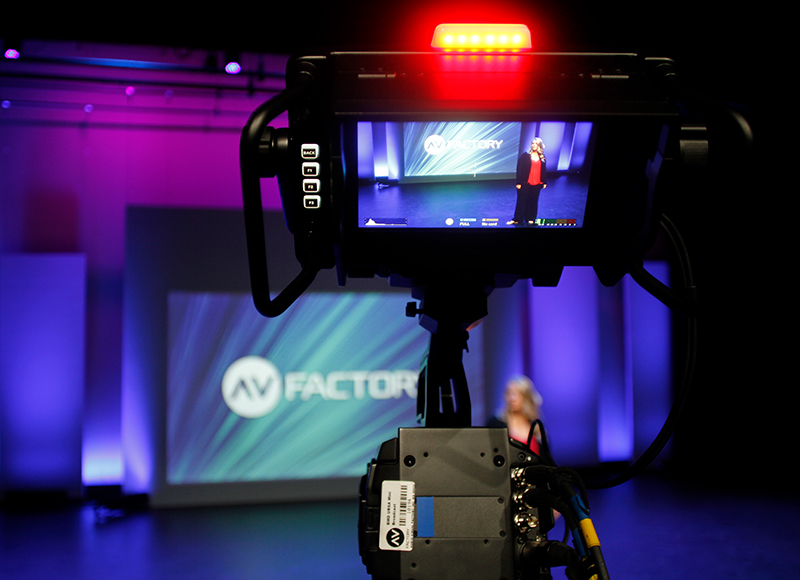 Fleixble Virtual Events
AV Factory and Meydenbauer Center present the Virtual Events Studio
Connect with your attendees wherever they are. In our current, fast-paced, and ever-changing climate, we wanted to present a simple solution during a complicated time. In partnership with AV Factory, we've put together a flexible event production studio to help keep your events running and your employee and customer engagement high. This studio is ready to set up anywhere in our building and is fully equipped with the production equipment you need and the technical staff you love, all while adhering to safety recommendations and social distancing guidelines.
Studio Quality
Packaged with the demand for online meetings and virtual studio space in mind, the Virtual Events Studio is a top-of-the-line solution to meet your needs. With broadcast quality HD multi-camera video, a variety of graphics computers, and digital elements, you can expect studio-level production quality. Additionally, our technical staff is on-hand ready to run everything for you. All you need to do is show up ready to engage and connect with your audience.
Technical Support
Rest assured that our virtual event space has support from our preferred AV provider, AV Factory. AV Factory provides complete cohesion by installing the video event system from the ground up. They take special care in selecting the right equipment suited to your needs considering ease-of-use, display size, and technical needs. In addition to this comprehensive approach, AV Factory takes an integrated approach to the entire production studio. From lighting and aesthetics to IT infrastructure and usability, their goal is to provide the ultimate experience in video events, teleconferencing, remote meetings, and more.
Flexibility
Due to the way it was created, the Virtual Event Studio is scalable to any size. Depending on the type of digital meeting and the scale of your virtual events, your Virtual Event Studio rental provides for your needs and vision. The production studio design and composition are programmed and structured to adapt and enhance your mission. In other words, if you have an idea, we'll bring it to life!
Safety
We believe safety is of the utmost importance. In fact, it's one of the pillars of our customer service philosophy. That's why we've made the Virtual Events Studio with respect for your health and safety. Your technical support team runs the show in a completely separate room without sacrificing quality. Your event studio will be exclusively yours for the duration of your rental. We've also worked to ensure sanitization and social distancing best practices are always in effect to respect your safety and keep everyone healthy.
Technical Capabilities
The Virtual Events Studio includes…
Broadcast quality multi-camera video system
Digital backdrop
Graphics playback computers
Solid state video recording
Web encoding computers
Teleprompting
Studio lighting
Digital audio system
Modular scenic options
Studio and control rooms physically separated for maximum social distancing