5 Ways to Rethink Your Space (for a Better Attendee Experience)
Aug 12, 2019
Amira Beidas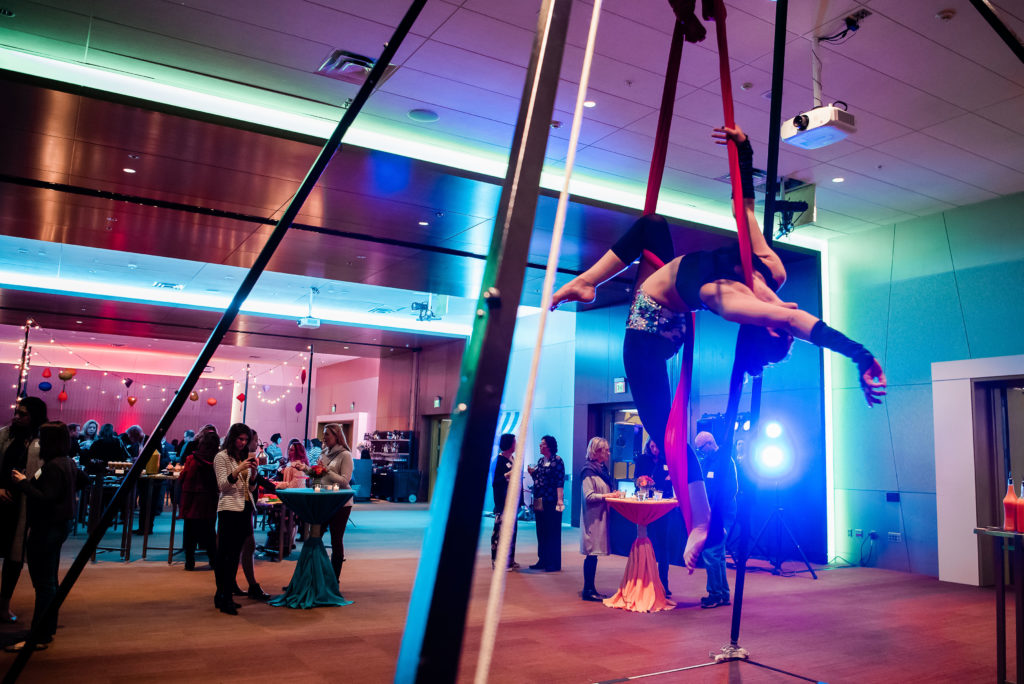 Photo Credit: Becca Ellison | Rebecca Ellison Creative
Often, we in the event industry define the attendee experience as starting the moment an attendee arrives and ending the moment they leave. In truth, the attendee experience starts long before your event begins and can last a lifetime. Standard convention and room setups might be failing us here. An end-to-end great attendee experience takes the whole person into account. When venues work with event planners, thinking outside the box, you can blow your attendee's expectations out of the water. Here are five ways you can rethink your event space to provide the ultimate attendee experience.
1. Mediation Spaces
The true benefit of creating quiet spaces at your event comes in the ways it engages your attendees. Everyone knows those times when we need to take a break and realign. Staying focused is instrumental in maximizing the amount of information your attendees can absorb. Whether creating expert-led meditation rooms, inclusive prayer rooms, or just a calm space to decompress, this offering goes a long way with attendees. For the most effectiveness, utilize low lighting, privacy partitions, comfortable seating, and soothing music. Or go above and beyond and provide professional shoulder and neck massages! Maybe even a little bit of yoga?
2. Working Spaces
Like fighting burnout, work is another distraction we're all familiar with. No matter if it's the constant notifications on your laptop or that red circle showing you all your unread emails it's so easy to feel like you must keep up while away from your desk. Commitment to your job is absolutely a redeemable quality, but by providing dedicated spaces to take care of those responsibilities, you fight distraction in your breakout sessions. Just like a WeWork space, provide open table setups with power outlets and refreshments. Or you can go a more traditional route and provide cubicle style spaces with rooms for taking calls. By restricting work to a defined area, you ensure that attendees are tuned in to your speakers and not their inbox.
3. Idle Areas
Sometimes, especially when you have limited space, it's challenging knowing what to do with your attendees in between activities. You could have a big room changeover for lunch or have to set up your big, end of the day reception. No matter the reason, there are times you need attendees busy elsewhere to make your event run smoothly. An interactive space for attendees to essentially kill time eliminates a huge gap in content at your event. Providing an activity that's event specific and delivering it in a fun way keeps attendees engaged seamlessly. Set up an arcade for your gaming convention, do wine and cheese tasting for those with pristine palates. There truly is no limit to the ways you can engage attendees if you stick to the keyword – fun.
4. Networking Opportunities
Okay, hear us out. We know networking isn't groundbreaking. By the same token, though, we can all agree that talking to strangers is a little intimidating. The natural awkwardness of speaking to someone you know nothing about is often a huge obstacle for successful networking. We recommend, not just providing a networking opportunity, but facilitating it. A great way to do this is set up a type of lounge or bar; something heavily themed that easily draws in your attendees. Then staff bartenders and encourage them to facilitate conversation! When sitting at a bar next to a stranger, the first instinct is to try to pretend they're not there, but once the bartender engages, suddenly there's a little more familiarity to the situation. Not a drinking event? You can achieve the same result with a networking poker room. The constant is an objective third party in an enticing and exciting space and is the perfect way to build relationships among your attendees.
5. Consultation/Expert Rooms
Another way to further your attendee's experience is consultation. This is ideal for attendees who are a little more introverted and don't feel like speaking up at a large Q & A, or for when time runs out and you don't get the chance to ask your question. Beyond that, the ability to sit down with an expert one-on-one and flesh out some of your concerns or ideas is an immeasurable benefit to many. Creating a space with some isolated areas for an exchange of expertise or consultation is a one size fits all type of opportunity. The obvious route is professional consultation, but it doesn't stop there! You can offer resume consultation at a job fair, design consultation at a home and garden show, a quick engine check at an auto show – the list goes on and on. Whatever the event, this experience offers a whole new type of takeaway for attendees.
If you're stuck brainstorming ways to rethink space for your event, we want to help! Our Event Managers are experts at transforming event spaces and our building is the perfect blend of flexibility and finish to take your attendees to new heights! Reach out today for more information!