Developing Bellevue and the Attendee Experience
Apr 19, 2021
Amira Beidas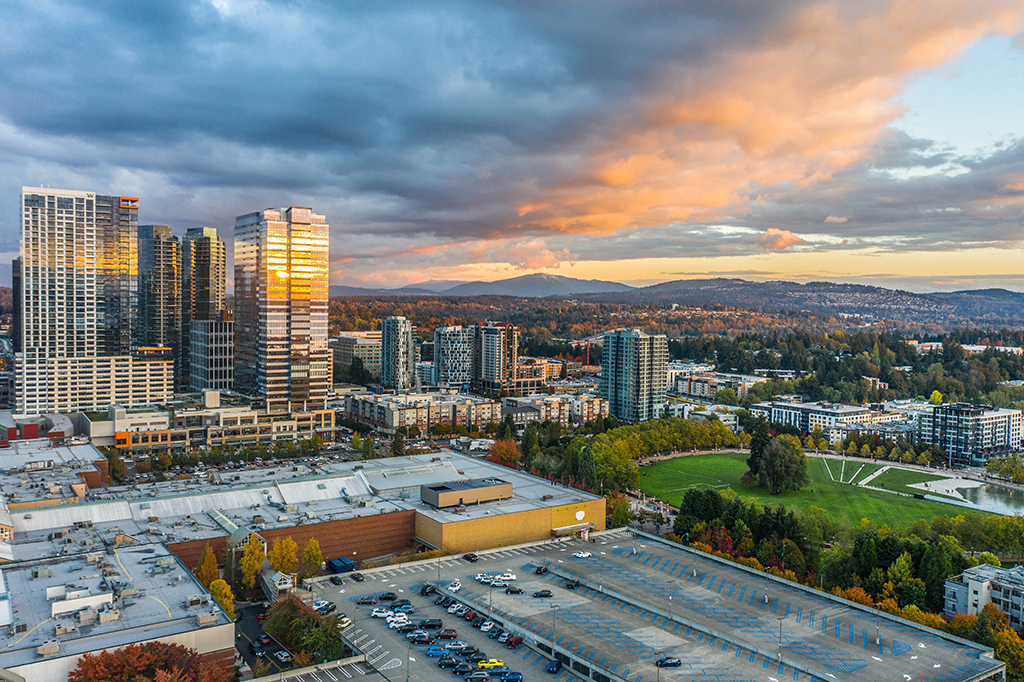 Bellevue is known for its bright culture and tempting retail and food scene. With sweeping development of our area taking place in the coming years, some of which is already underway, the pull towards the Eastside is growing. For Meydenbauer Center, this means an enhanced experience for those visiting our building. As Bellevue grows, so too does the opportunity for exceptional amenities and experiences for guests. In partnership with Visit Bellevue, we've developed an outlook for future attendees to get event planners excited about the possibilities our area has to offer. Let's first look at the areas of development we're seeing.
The Light Rail
In massive demand, the Link Light Rail is finally making its way east. With ten stations being installed between Seattle's International District and the Bel-Red area, connectivity to the Eastside is on the precipice of abundance. Six of the ten new Light Rail stations are located along a 14-mile alignment in Bellevue meaning event guests will now be connected to Downtown Bellevue, Meydenbauer Center, Bellevue City Hall, and our vibrant hospitality offerings with ease. Opening in 2023, this expansion represents a vast potential for event planners to reach larger, more diverse audiences with a direct connection from the Greater Seattle Area to Bellevue.
Amazon
One of Seattle's biggest tech players is finally making the jump across the pond into Bellevue's lively tech culture. With several new campus buildings in the works, Amazon's foray into Bellevue's tech scene represents far more than a new potential corporate client. These development projects come with retail space and parking providing new options for attendees to continue their experience beyond the walls of Meydenbauer Center and into the new vibrant lifestyle around them. Amazon's development represents over 200,000 square feet of retail space all within walking distance of our building.
Hospitality
Bellevue as a vacation destination is just the beginning of possibilities for our area. Plans for new hotels, combined with Bellevue's existing hospitality offerings, provides convention center guests with an abundance of stay choices, but it doesn't stop there. Business and local guests are also provided with stay options to make their travel and attendance a much simpler process. Plus, with these new developments comes new amenities. Housing and hospitality development in Bellevue brings with it a local, neighborhood mindset. Intentionally laid out and thought through, event guests will have new districts to explore and visit with shopping, dining, and public spaces.
The Grand Connection
All this work culminates in what is being referred to as The Grand Connection. Bellevue's Grand Connection begins at the waterfront of Lake Washington at Meydenbauer Bay Park and extends all the way through the many exciting current offerings and future projects, connecting with the regional Eastside Rail Corridor. Within this development is an opportunity to create unique district theming and environments along the entirety of The Grand Connection. Access to these various districts along The Grand Connection will be direct, meaning, when an attendee walks out the front doors of Meydenbauer Center, they'll be greeted with immediate connectivity to a vast array of amenities and offerings.
Development in Bellevue symbolizes potential. Your attendee experience begins with booking your venue. These new and exciting projects grant you the potential to carry that experience through your event and out into the streets of Downtown Bellevue and well into the night. We're excited to see the ways our region is growing and brimming with anticipation as the word "opportunity" becomes synonymous with Bellevue.