Don't Fall Back, Get Out! – Ideas Around Bellevue for Attendees to Get Up and Moving
Sep 20, 2021
Amira Beidas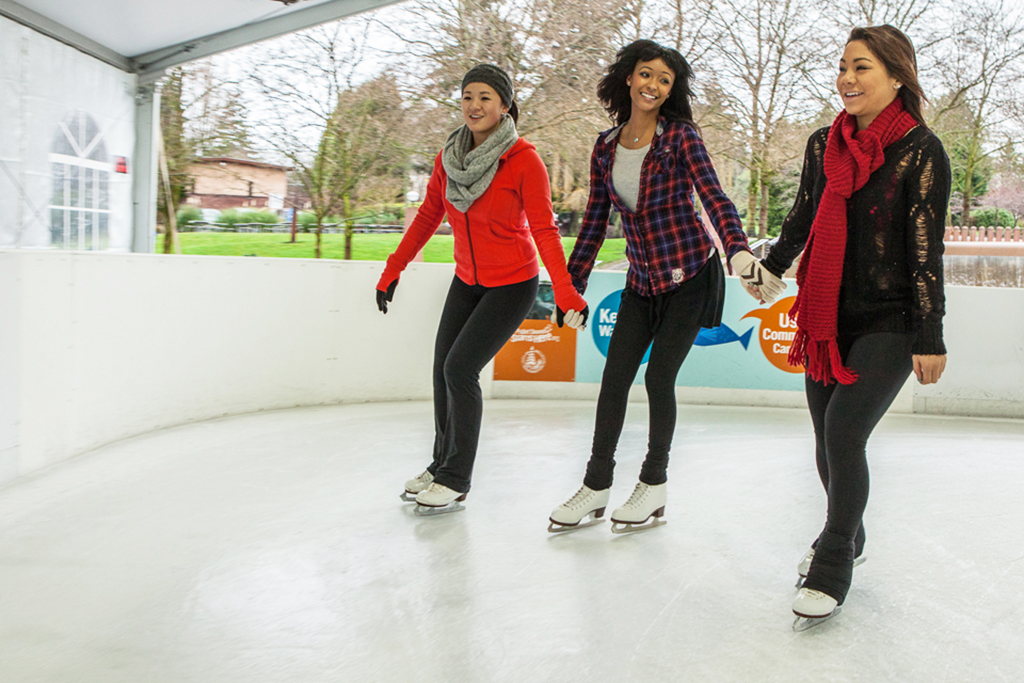 Everyone in the Pacific Northwest is familiar with the feeling. Summer fades away and, while we don't know anyone who doesn't love a good PNW fall, it's so easy to get sucked into the habit of cozying up under a comfy blanket in a dark living room and consuming all streaming things. Which, don't get us wrong, is totally fine. We love a good hot toddy and a scary movie during spooky season as much as the next person, but sometimes it's hard to know where to stay active when you want to. Both local and out-of-state attendees might look at our region in the fall and winter and think, "Well, what am I supposed to do with my free time if I want to get out and move around?" With the help of Visit Bellevue, we've come up with a list of activities in and around Bellevue to appeal to guests with a pension getting up and getting out.
TruFusion Bellevue
Located in Bellevue's Lincoln Square South, TruFusion Bellevue has a bit of a reputation. With classes for everything from yoga to boxing, this gym is owned by two of the biggest names in professional sports. While you may not catch owner and MLB star Alex Rodriguez here, rumor has it that owner and Seattle's own Russell Wilson makes a cameo appearance now and then. One of the biggest appeals of TruFusion is its ability to offer classes with a little something for everyone. Though TruFusion Bellevue is just one of the company's franchise branches, with locations in Arizona, Florida, and Las Vegas, even out-of-towners might find their new workout spot here.
SoulCycle
Everybody knows SoulCycle. And it would seem everybody loves SoulCycle. Found at the corner of NE 4th Street and 105th Avenue NE, SoulCycle's Bellevue location is in the heart of it all. The true appeal of SoulCycle is its "sanctuary" approach. With relaxing lighting and some absolutely bumping playlists to work out to, this one-of-a-kind workout can be found in over 93 locations across the country. Another good option for both local and out-of-town guests, SoulCycle is a great workout for any time of year.
Forum Social House
And now for something completely different. Forum Social House may look like nothing more than a bar and lounge to the untrained eye, but if you dig a little deeper, there's plenty of movement to be found. Renton may be getting a full-fledged TopGolf in the not-too-distant future, but attendees can find a little taste of the wildly popular game right on Bellevue Way. Forum has several TopGolf Swing Suites that offer a virtual experiencing where players can "play golf on one of over 80+ world-renowned golf courses, enjoy the traditional Topgolf experience virtually, throw a touchdown pass in a packed stadium, or smash zombies in the face with dodgeballs." Sounds wild. It doesn't end there either! Forum also offers guests a par 1 miniature golf course and the Rockwell Sound Lounge for a night of drinks and dancing.
Lucky Strike
Bowling. Who doesn't love bowling? A few years ago we had our holiday party at Lucky Strike, and we can attest that bowling is a workout. But anywhere can just be a bowling alley. Lucky Strike said, "Not I!" Located in Lincoln Square, Lucky Strike offers bowling, food, drinks, and a full arcade. Never forget the arcade. Gamers are athletes too! If your guests aren't likely to be health nuts, Lucky Strike is a great option to get out there, get in from the weather, and have an old-fashioned rollicking good time.
Bellevue Downtown Ice Rink
We will admit, you'll have to wait a bit for this one, but the Bellevue Downtown Ice Rink is a staple every holiday season. For the last 23 years and counting, this pop-up ice rink delights families and friends at the southwest corner of the Bellevue Downtown Park. Any equipment you need can be rented at the ice rink to enjoy on the largest seasonal ice rink in the region. Your guests can get a little holiday cheer moving and shaking up and down the rink, showing off their best triple lutz. Or, if you want something a little more private, the rink is available for private rentals as well. Now get out there and get the gold!