Takeaways from the Sounders: Attending Pre and Post-Reopening Games
Jul 12, 2021
Amira Beidas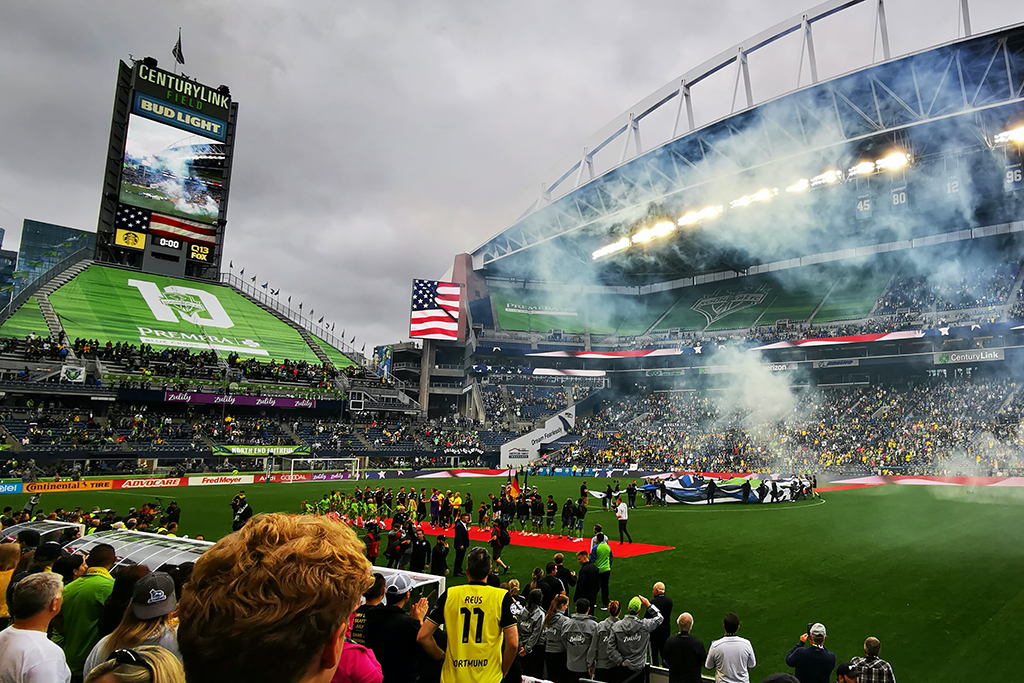 As a California transplant, one of the most exciting things to discover upon moving to Seattle a little over ten years ago was the unmatched love for Seattle's sports teams. I grew up in Sacramento where, aside from the heydays with the Sacramento Kings, there weren't many opportunities to throw on the cities colors and go shout at a ball with a bunch of other people. Being someone who rather enjoys shouting at a ball with a bunch of other people, I quickly became engrossed in Seattle's rich athletic culture. Fast forward ten years and I own more Seahawks and Sounders gear than I care to admit though not as much as some of the more dedicated fans around the Puget Sound.
Back in March of 2020, I found myself among the crowd gathered at then Century Link Field for a Sounders game. It ended up being a bit of an infamous event due to the size of the audience in attendance and the uncertainty around the COVID-19 outbreak in King County. I don't remember a whole lot about that game aside from thinking a week or so later, "Huh, guess I probably shouldn't have gone to that…" And then quarantine happened. I recall gluing myself to my screens to catch any glimpse of live sports I could, whether watching Italian soccer on ESPN or eventually getting to enjoy some stateside soccer with the MLS is Back tournament. The thing that really stuck out though? These games were so quiet. It's incredibly eerie watching a professional sport be played in a stadium with a capacity for 70,000 fans and knowing you could hear a pin drop in that space.
By September of last year, I was dying to get myself back to a Sounders game. That opportunity wouldn't come until June of 2021 when on a Wednesday evening I'd finally get the chance to don my jersey, hold my scarf high above my head, and take part in the longstanding tradition of yelling at the referee to question what game he's watching. (Seriously though, if you don't know, the refs have always had it out for Seattle. I don't know why.)
In the span of a few weeks, I attended a game before the statewide reopening on June 30th and after that date. I attended one game on Wednesday, June 23rd, and one game on Wednesday, July 7th. It was a unique experience attending essentially the same event twice on either end of restrictions. I thought I would share some of the impressions and takeaways I had from these events and how they might pertain to our industry.
Masks vs. No Masks
It's fair to say that the ability to go certain places without a mask is very new for a lot of us and is probably going to take a bit of getting used to. The June game and the July game were night and day. At the game in June, my tickets were in the vaccinated section of Lumen Field, and thus, after making it through the entryway, we were no longer required to wear masks. And for the most part, we exercised that freedom. For me, it felt akin to being in a large park. Our seats were kind of isolated from other people's seats (though I don't think that was by design for this game) and, Lumen Field being an open-air stadium, it felt refreshing to enjoy the game without a mask on for the majority of the time. There were instances we opted to wear our mask anyway like in the bathroom or tight concession lines, but ultimately that was up to our comfortability and not a requirement of the venue or event.
At the game in July, it was an entirely different ball game. No pun intended; that's a baseball thing and this was soccer. With the state reopened on June 30th, the Sounders were able to host their first home game on July 7th with no restrictions. That meant it didn't matter where you were sitting, masks were only required for non-vaccinated guests and it was on the honor system. With full vaccination status in King County sitting around 75% as of writing this blog and being fully vaccinated ourselves, I didn't really have a problem with the no mask requirements. We still wore them on public transit and in crowded spaces both for our own comfort and to adhere to King County's rule about masks on public transit, but at the game, I don't think I had my mask on once. While the seats around us were fuller this time around, I still found myself feeling more at ease in an open-air stadium and the game wasn't so packed that indoor spaces were overcrowded. Much of the staff at Lumen Field still wore masks, a similar policy to what we've adopted at Meydenbauer Center post reopening, but with dividers and other safety measures in place, I never found myself in a situation where I knew I didn't have to wear my mask but felt like I should.
The most interesting takeaway from this aspect of the event was that, even though masks weren't required on July 7th, some people still wore them the entire game. It seems to me, however, that as event planners start going through the tough process of deciding what needs to be required at their in-person events it'll be important to keep in mind that attendees are likely taking a hybrid approach to safety post-pandemic. They'll still expect event organizers to take on responsibility and apply the correct restrictions or lack thereof for the target audience, but they'll also be taking safety into their own hands wearing masks, sanitizing and washing their hands, and generally adhering to their own set of standards.
Proof of Vaccination
With no restrictions in place, proof of vaccination isn't required to attend in-person events. Personally speaking, I think attending an event where proof of vaccination was required so close to one where it wasn't felt a little strange. I don't think it was a matter of not feeling safe at the July 7th game, but rather that the game prior happened so close to my attending that July game that even entering the field I kind of felt like I was doing something wrong.
At the June 23rd game, guests seated in the lower bowl of Lumen Field were required to provide proof of vaccination upon entry. This could be in the form of your actual vaccination card, a digital photo of your vaccination card, or a physical photo of your vaccination card. It was a fairly simple process of showing your proof to a medical professional from Virginia Mason and receiving a stamp on your wrist. I don't really know what the point of the stamp was as, after receiving it, nobody checked it the entire match, but I can only assume it was meant to serve as proof of your vaccinated status should an issue arrive.
At the July 7th game, there was no checkpoint to go through. Whereas in June vaccinated and non-vaccinated guests were seated separately, the July match allowed everyone to purchase seats anywhere in the stadium. The big difference this made was in the way fans were dispersed throughout the stadium. Despite being at 100% capacity, I didn't see a single person sitting in the 300 level of the stadium. In June, there were plenty of people both in the lower bowl and the higher sections of the stadium with fans fairly spread out throughout various sections. The game on July 7th seemed to imply that guests who'd once been sequestered to the 300 level took advantage of the new stadium policy and moved down into the lower bowl and anyone who didn't might not have been comfortable enough to attend an in-person match with no restrictions. This is speculation of course, but it provides an interesting insight into what event organizers may expect when planning their own in-person events.
To put it simply, no restrictions doesn't mean anything goes for attendees. It would be an oversimplification of the matter to suggest that, if the state says no restrictions, attendees are on board. With constantly changing guidelines and an air of uncertainty looming over every decision, it's easy to see why guests might have different expectations than guidelines suggest. Everyone has a different relationship with venturing out into the world and comfort levels are wildly varied and will continue to be for some time. When planning for your event, it's important to remember that guidelines are just that – guidelines. Your event may require more restrictions than the state requirements and that's okay.
The Roar of the Crowd
This is the exciting one. There was absolutely no difference between June and July when it came to the sheer energy in the stadium. Fans are absolutely stoked to be at an in-person soccer event again and that feeling is palpable. Just walking the stadium, I could feel my adrenaline going and the anticipation rising. I could almost taste what it felt like to cheer for a home team goal again. I was ready and the event didn't disappoint. We cheered, we clapped, we sang, and we jumped and screamed. It was incredible. Everyone at Lumen Field was so excited and so ready to be there again that the simplest victory in the match would bring the crowd to its feet. The stadium filled with roars at a well-timed pass, booing echoed throughout the pitch at a bad call from the referee, and when the team scored? You'd think Beyonce scored that goal herself the way the crowd went off.
It's a reassuring sentiment for our industry. People want to be at in-person events again. Sure, they want to feel safe and comfortable while doing it and each guest will have their own vested interest in the protocols and safety measures being taken, but they want to be there. The July game wasn't full. Despite the stadium being at 100% capacity, Lumen Field was nowhere near the numbers it could have reached that day. It's going to be a slow, but steady return to the in-person events we knew before the pandemic. But, if the energy at your event is anything even remotely like the energy in Lumen Field these past few games, you're in for an absolute treat.