What the State Reopening Means at Meydenbauer Center
Jul 8, 2021
Sara Waltemire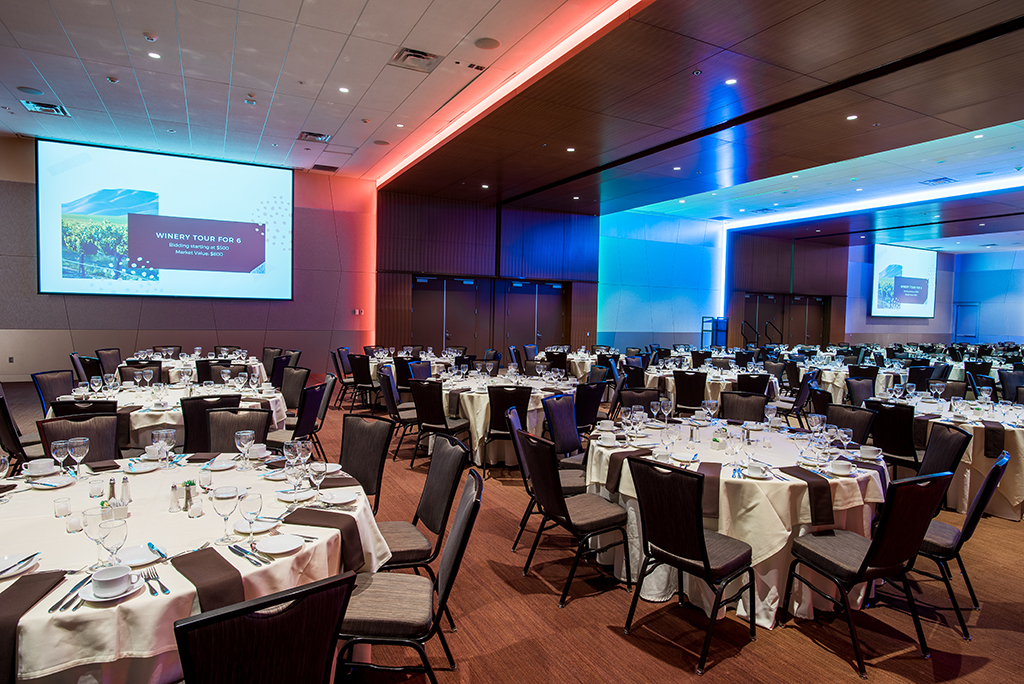 It's official! On June 30, nearly all the COVID-19 restrictions were lifted in Washington. Since the start of the pandemic, gatherings have been limited in some form or fashion, and we've been getting questions about what limitations may remain for events following the reopening. The short answer is that the only situation in which there are still limitations on events is for indoor gatherings of over 10,000 people. The events that take place at our facility all fall below that threshold and are therefore no longer subject to any state-mandated limitations or restrictions. Safety protocols and requirements are now entirely at the discretion of the event organizer. Here at Meydenbauer Center, we're working with our clients to determine what works best for them and their audience. There are a couple of key areas that we are talking to event organizers about.
Social Distancing
For the past year as gatherings have happened, there has been some form of social distancing in place as people are queuing, traveling through the facility, and even when seated in the room. The six feet requirement is now a concept of the past in Washington, and we are seeing event organizers handle this differently. Some groups are eager to get back to normal and moving away from social distancing requirements. Others are still looking to maintain six feet of distancing between small groups. Here at Meydenbauer Center, we are happy to support whichever directions make the most sense for your guests. Our Event Managers can design room layouts to fit all different social distancing setups, so it's really a matter of what makes the guests most comfortable.  
Mask Requirements
We're currently still asking guests to wear masks when traveling through the public spaces in the building because we often have multiple events happening simultaneously with different protocols for their events. With that being said, it's completely up to the event organizer what requirements they want to have in their event space. In Washington State, masks are no longer required indoors for fully vaccinated individuals, and it's up to you if you want to verify that information or if you want to go off an honor system. One of the effective ways that we have seen verification work is providing fully vaccinated guests a wristband at check-in so there is a clear visible indicator of vaccination status for staff and guests. You could even streamline this process by having guests submit their proof of vaccination when registering for your event and having wristbands available with their check-in materials. This helps reduce the risk of attendees forgetting proof of vaccination or misunderstanding what qualifies as such.
Regardless of your plans for your guests, Meydenbauer Center will continue wearing KN95 masks any time they are working in public spaces. This means that the servers, bartenders, and facilities staff working in your event staff will all be masked during your event regardless of vaccination status.
Vaccination Sections
One of the most recent areas of the state guidance was that social distancing and mask requirements could be lifted in vaccinated sections, and we've been getting questions about if this is going to stay. It's now the case that event organizers can plan events without any social distancing requirements regardless of vaccination status. If you want to set up vaccinated and unvaccinated sections and vary social distancing and mask requirements, we're happy to support that effort by designing layouts with separate entry doors and dedicated sections with and without social distancing. One of the areas you'll want to be thinking through is how you will be administering this process at check-in.
Food & Beverage Service
Early in the pandemic, we decide to move away from standard buffet services due to concerns of risk of exposure. We continued operating that way through the end of June; however, we have now transitioned back to our more typical buffet offerings. Many groups are still opting for grab-and-go stations or plated meals, and those are both still great options we are prepared to provide as well!  
Other Safety Measures
One of the biggest things that isn't changing at Meydenbauer Center due to the easing of restrictions is our internal policies and protocols related to health and safety. Early in the pandemic, we made several updates to our HVAC system that will remain. It was modified to increase the outside airflow to 50%, and we flush the rooms with outside air before and after events. We have also upgraded our HVAC filters to the highest level of filtration for our system, MERV 13 filters, and increased the frequency with which they are replaced. Additionally, our staff continues to go through daily health screenings and temperature checks. We earned our Global Biorisk Advisory Council (GBAC) Star accreditation last August, and we continue to follow the health safety protocols outlined in the accreditation. We still disinfect high-touch surfaces on an hourly basis and do full disinfection of all spaces overnight.
Our goal is to continue focusing on the health and safety of our staff and guests while also flexing to meet the needs of each individual group. Feel free to reach out to an Event Manager to discuss any specific questions you may have about health safety protocols in our facility!