A Case Study in Integrated Health Safety Measures
Jun 28, 2021
Courtney Barnes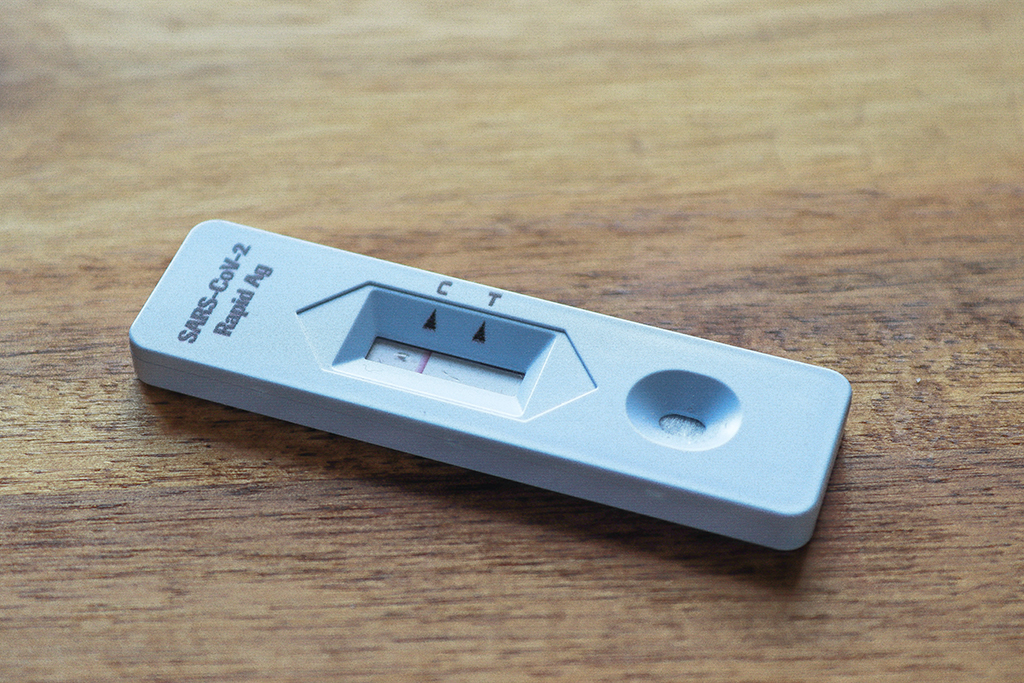 At the beginning of this year, we predicted that health and safety priorities would be a running trend throughout 2021. While we readily admitted that it was a bit of a given considering the nature of the prior year, it would seem this trend has only grown in terms of its nature and complexity as time's gone on. Now, as we see events slowly but surely returning, healthcare and vaccination remain top-of-mind and we've seen health and safety checks and protocols work seamlessly in tandem with in-person events. It takes planning but incorporating health and safety directly into your event experience reassures your guests, reduces the risk of an outbreak, and challenges you to get creative and pursue new opportunities with the new landscape planning an event presents.
We recently had an event in our space that was a perfect case study for the possibility of this concept. With a comprehensive rapid testing program and considerations made for attendees who were unable to join in person, this event was a seamless exhibition of an integrated, safe in-person event.
The Event as a Case Study
This event took place in May meaning widespread vaccination hadn't really crept its way into in-person event planning yet. Instead, the focus was on rapid testing and receiving a negative result before joining the event. At Meydenbauer Center, we have a surface parking lot just north of our building. As luck would have it, this parking lot was perfectly oriented to function as a rapid testing site specific to the event. Let's talk a bit about what this looked like in action.
With the event start time being 10:00 AM, rapid testing in the lot started at 7:30 AM to give guests ample time to complete their testing. Each attendee participating in rapid testing received a 30-minute time frame for which they should arrive and receive their test. These times were assigned by last name to avoid favoritism. From there, the setup had guests drive in, have their test done in their vehicle, and then park and wait for their results. Once their results arrived, they'd receive a call from the agency and, if negative, they could proceed to the parking garage and join the event. If positive, they could drop their materials off at a box in the lot and safely leave to quarantine. Our client didn't stop there, though! Working with our catering team, guests who had to leave received food to take with them on their way out. They even extended the offer to drop off their materials for the event and receive a meal for guests who just didn't feel comfortable attending an in-person event during their pandemic. This made it so their entire community felt involved regardless of their comfort level. Guests who were able to attend the event wore masks and were socially distanced to promote even further health and safety.
There are a couple of key elements to this system that contributed to its success.
Creating a Safe Space for Attendees
At the forefront of planning for this event, a strong emphasis was placed on safety. This is essential for planning an event with an integrated healthcare experience. Comfortability for attendees joining an in-person event is the difference between trust and a positive experience and wandering minds unable to focus, too busy thinking about their safety. No one wants to cultivate a space hinged on nerves and paranoia. In its essence, this prioritization isn't all that different from a typical event you might plan. It requires careful attention to detail and a thorough plan in partnership with your venue.
Health and safety protocol at events also requires intense partnership and strategizing with your venue and staff. Each venue will likely start with baseline policies mapping back to Washington State's guidelines and CDC recommendations. No one knows your audience like you do, so start with that baseline policy and then work with your venue to build upon those policies into an overall strategy that is executable and efficient. While it does take careful planning, a safe space that reduces the risk of infection is entirely possible. Like the event we had in May, there may be new logistical challenges involved like wait times, options, and expectations for attendees, but with the support of your venue and staff, it's achievable.
Individuals Unable to Attend
This is a complex issue. When it comes to rapid testing, an attendee who receives a positive result is grappling with a lot of information and emotions at once. It's not as simple as being unable to attend the event, but the future may also seem rocky and unstable on the precipice of quarantine, isolation, and recovery. Compassion and consideration for this experience is the embodiment of hospitality. In the case of our event in May, food and beverage seemed the most appropriate solution based on the event type, but there are a multitude of ways to express this compassion and understanding. You may choose to go through with a hybrid event to bring your experience to in-person guests, attendees who have to leave, and attendees who can't make it altogether. Virtual components to an event have the ability to break down barriers for those with the inability to attend. Additionally, you may consider a care package option. Knowing your attendees and tracking positive results allows you to follow up and personally express care. You might take elements of your business and combine them with comfort items such as blankets or snacks.
The Takeaway
Ultimately, maintaining the delicate balance between a safe event that creates a comfortable space for attendees and coming across as overbearing is difficult, but we've seen firsthand just how doable it is. There's no right answer for all events though. It's incredibly dependent on your attendees' own comfort level and expectations. We've seen events that opt for stricter requirements and compliance because that's what makes sense for their audience. We've also seen events that follow state and CDC guidelines, adhering to our building policy and calling it good. At the end of the day, it's important to remember that it's all possible. With a little elbow grease and a bit of support and planning, you can achieve what might have sounded like a pipe dream a year ago. In-person events are back!